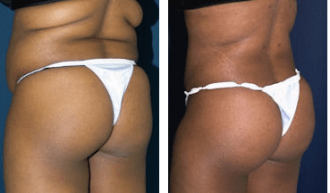 Curves, love handles, and Brazilian Butts. I have been doing a lot of Brazilian butt lifts. It continues to amaze me how good this procedure is. It is perfectly suited to how the body handles fat, and the different components of the procedure enhance each other. Although the procedure is called Brazilian butt lift, what makes it great is the way the love handles are reshaped and create a nice curve between the butt and the waist.
The most important thing in this procedure is not to get the "biggest butt", but to create the best looking waist-hips-butt area. When patients bring in pictures of what they want to look like, invariably the models shown have small waists and a curvy transition between the lower back and butt. The butt doesn't have to be that large as long as that transition area has a nice looking curve. As a matter of fact, I have several patients from years past who look like they had a butt augmentation when all they had was liposuction to the flanks. The increased contrast between the lower back and the buttock itself, as well as the curvy transition between them, enhance the appearance of the buttock.
If you then augment the buttock with fat taken from the love handles area, the results can be spectacular! See our before & after Brazilian butt lift gallery to see my results.