What is an Arm lift?
The Arm Lift, also known as the Brachioplasty procedure, reduces excess skin and underlying fat that occurs between the underarm and the elbow, reshaping the arm to result in smoother skin and more normal contours. There are several versions of this procedure, each depending on the amount and location of the loose skin.
The procedure can be performed under monitored IV sedation or General anesthesia, but we prefer the use of IV sedation, as it eliminates many risks that are associated with General anesthesia. Patients should expect to take 1-2 weeks off from work.
What problems does an Arm lift address?
After my weight loss, the excess skin on my upper arms makes me look like I have bat wings.

-a Maryland patient
In general, candidates for an arm lift include adults with significant upper arm skin sagging and laxity.
Candidates usually have these signs or symptoms
Excess upper-arm skin and fat following significant weight loss
Loss of upper-arm skin elasticity
Weakened tissues in the upper arm
The procedure can be performed on adults of any age whose weight is relatively stable and who are not significantly overweight. An Arm lift will reduce the size of your upper arms to give you smooth, tightened skin and a more toned and proportionate appearance. This procedure is commonly performed on patients who have had a large amount of weight loss or patients who have a lot of saggy skin on their arms.
How is the Arm lift procedure performed?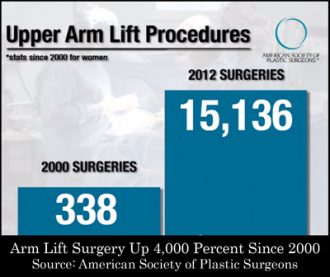 Arm lifts should only be performed by a board certified plastic surgeon at either an accredited outpatient surgery center or a hospital. During the past 8 years I have performed all of my Arm lift procedures in my AAAASF accredited, Medicare certified, outpatient surgery center. To give you the highest level of safety, anesthesia is administered by board certified anesthesiologist. I do not use CRNAs.
What type of anesthesia is used?
I prefer the use of monitored IV-sedation anesthesia instead of General anesthesia. With IV anesthesia, you are awake as soon as the procedure is over, and most patients do not have any postoperative nausea. At my AAAASF accredited surgery center, the IV Sedation is administered by a board certified anesthesiologist. To learn more about IV sedation and the difference between it and general sedation, see my blog post about the types of anesthesia used in cosmetic surgery.
Brachioplasty surgical options
The Arm lift can be performed at three different levels. The level chosen is a decision that you make with me during your initial consultation and is mainly a function of 1) the amount of skin you have hanging from your armpit and arms and 2) the length of your arm which has the amount of hanging skin.
1) Minimal scar Arm lift
The minimal scar Arm lift removes excess skin at the crease of axilla (armpit) resulting in a short scar and is usually combined with liposuction of the upper arm to remove fatty tissue.
2) Traditional Arm lift
The traditional Arm lift removes hanging skin and fatty tissue from your armpit to just above the elbow. The incision is made on the inside of your arm.
3) Extended Arm lift (Thoracic lift)
The Extended Arm lift, or Thoracic lift, removes excess skin and fatty tissue that is on the side of the chest, axilla, and upper arm. This procedure includes the Traditional Arm lift but adds the removal of skin along the side of your upper chest. The incision goes from your armpit, down the inside of your arm, and extends all the way down the midpoint of the side of your chest.
Liposuction may be a surgical alternative to Brachioplasty if there is good skin tone and localized fatty deposits in an individual of normal weight. However, if you have too much excess skin, liposuction alone will only make the skin sag more. In other words, if you have loose arm skin and liposuction alone is performed, your arms will likely look worse! Loose hanging skin can only be tightened by cutting off and removing the excess skin.
What are the preoperative requirements?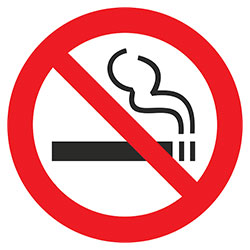 It is important to note that Brachioplasty is not a surgical treatment for being overweight, but rather a body contouring treatment often performed on patients who have already lost a significant amount of weight. Therefore, prior to having an arm lift you should have reached your weight-loss goals and maintained a stable weight. Preparations for the Arm lift involve the following:
Your BMI (Body Mass Index) must be less than 35 kg/m2. This is calculated based on your height and weight, and is important to reduce the risk of post op complications.
Quit smoking 2 weeks prior to surgery
Stop taking multivitamins, herbals, and aspirin 2 weeks prior to surgery
Physical examination (H&P) and CBC (anemia detection) within 30 days of surgery
Schedule a pre-operative appointment with Dr. Rodriguez to review the surgical plan and review the Informed Consent document
NPO after midnight before surgery
What is Arm lift Post-Op recovery like?
Having an Arm lift involves taking a minimum of 2 weeks off from work. During this period you should elevate the arms and avoid movement of the arms. If you have an active job where you use your arms to lift or move things, you will need more time off from work.
During week 3 to week 4 you will have a limited range of motion in your arms. By the end of week 6 you should be able to resume normal activities.
Postoperative recovery instructions
First 48 hours: Strict bed rest with arms elevated and avoid movement to arms. You should have someone stay with you during this initial postoperative period.
Day 3-14: Resting with arms elevated and avoid movements to arms. Compression garments on arms must be worn at all times.
Between 2-3 weeks: Retention sutures are removed
Up to week 4: Limited range of motion of arms
At 4-6 weeks: Resume normal activities
During the post-op recovery period we will provide specific, written instructions and, as always, our staff will be available to answer any questions or concerns. I will closely follow your recovery and recommend the level of activity you may resume at the appropriate time.
What are the risks and possible complications?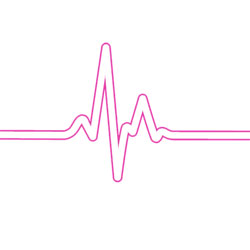 As with any surgery, there are risks and possible complications with having an arm lift. This ASPS page on Arm lift has a complete list of all complications. The most common complications include:
Hematoma
Seroma
Infection
Unfavorable scarring
Possible need for revision surgery
How much does an Arm lift cost?
Costs vary depending on the complexity and the type of arm lift as well as the time needed in the operating room. The extended arm lift, or thoracic lift, is a 6-8 hour procedure; and, therefore, has the highest cost. At your initial consultation you'll be provided with a surgical fee quote that is specific to your surgical plan.
Costs are related to the amount of time required to perform the case in the Operating Room. Total estimated cost for bilateral arm lift during 2023 are as follows:
| Type of Arm Lift | 2023 Arm Lift Cost |
| --- | --- |
| Minimal scar Arm lift | $6,400 |
| Traditional Arm lift | $9,200 |
| Thoracic or extended Arm lift | $14,500 |
Total cost for Arm lift surgery includes the surgeon's fee, the operating room fee, anesthesia fee (board certified), and the post-surgery compression garments.
Can I finance my Arm lift?
Yes, we work with a number of finance companies so that you can have a low, affordable, monthly payment. Please call our office at 410-494-8100 or see our financing section for more information.

Modified on | by Dr. Ricardo L. Rodriguez
Board Certified Plastic Surgery, ASPS Member
NOTICE
Patients depicted in our before and after galleries have provided their written consent to display their photos online. Every patient is unique, and surgical results may vary. Please contact us if you have any questions.