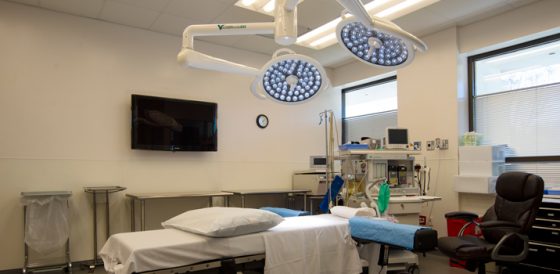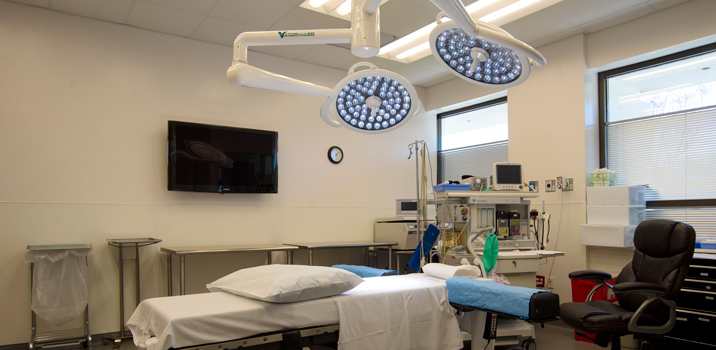 Cosmetic Surgery Facility, LLC, DBA CosmeticSurg.net

We are a free standing, single specialty, fully accredited and licensed surgery center. Our surgery center is AAAASF accredited and Medicare Certified. Ricardo L Rodriguez MD serves as Medical Director of the surgery center. The NPI number of the Facility is 1578763199.
The facility uses only Board Certified Anesthesiologists and Plastic Surgeons. As an accredited surgery center in the State of Maryland, the Facility is registered with the Department of Health and Human Services.
Surgery center location and hours of operation
The Surgery Center is attached to Dr. Rodriguez's private practice location, in the northern part of Baltimore, Maryland. Both organizations are conveniently located near the intersection of Charles Street and the I-695 Beltway, exit 25.
| | |
| --- | --- |
| Monday | 7:30AM – 6PM |
| Tuesday | 7:30AM – 6PM |
| Wednesday | 7:30AM – 6PM |
| Thursday | 7:30AM – 6PM |
| Friday | 7:30AM – 4PM |
AAAASF accredited, Medicare certified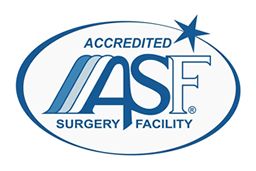 The AAAASF (Quad A) has mandatory guidelines for surgery center accreditation. There are four classes of Operating Rooms for Surgery Centers: class A, class B, and class C-M, and class C. Our Facility is classified as a Class C, the *highest level of certification* possible with the AAAASF. Class C status is only awarded to Facilities which are certified to monitor all types of anesthesia. Types of anesthesia used by our surgery center include General Anesthesia, IV sedation anesthesia, and local anesthesia. Quad A provides official recognition to facilities that have met 100% of its high standards. Accreditation assures the public that patient safety is top priority in a facility.

In order to attain and re-certify with the AAAASF, 100% compliance is demanded. Facilities must satisfy every single criteria for certification. If any single criteria is not met, than they are denied accreditation. There are strict criteria for OR size, construction materials, firewalls, air filtration systems, infection control, cleaning protocols, safety protocols, physician and staffing credentials, and many other parameters. Air quality in the entire OR suite must meet a certain requirement based on air exchanges in each room of the surgical suite. These special air handling systems ensure that air is free from microbial particles.
Policies and procedures at our surgery center are in place to monitor staffing, equipment, and surgical outcomes. These are routinely monitored daily and weekly, and discussed at quarterly OR meetings. In the unlikely event you would need hospitalization immediately after surgery, we have a transfer arrangement with Greater Baltimore Medical Center, only 3 miles from our surgery center. Additionally, our Facility is Medicare Certified, meeting the standards set by the U.S. government.
Board certified anesthesiologists
All types of anesthesia can be administered in our surgery center. This includes General Anesthesia, monitored IV sedation with propofol, and local anesthesia. All anesthesia is administered by Board Certified Anesthesiologists. We do not use CRNA's, as we believe that board certified physicians can provide you with the safest experience possible. Since 2013, the surgery center primarily uses the anesthesia services of a group led by Dr. Amar Setty of Good Samaritan Hospital here in Baltimore. All members of his team are Board Certified Anesthesiologist and highly skilled in the use of IV anesthesia. Physicians who are credentialed to administer anesthesia in our facility include:
Todd Hobelmann, MD
Xiangxing Zeng, MD
Yongbo Liao, MD
Amar Setty, MD
For most elective cosmetic cases, Dr. Rodriguez prefers to use monitored IV sedation instead of General Anesthesia, as it greatly reduces the risk of pulmonary embolism.
In the operating room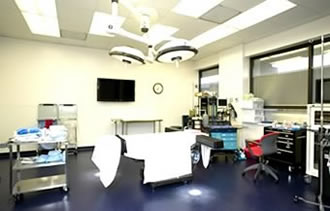 Our Operating Room is more than 400 sq ft, allowing our surgical team to have generous room for equipment and additional surgical team members.
The entire operating room suite and recovery room are equipped with back up power generators in the event of power outage.
The full Surgical suite consists of an Operating Room, a Recovery room, a Sterile Processing room, a Utility-dirty room, and a patient bathroom.
On a typical operating day, the surgical team includes Dr. Rodriguez, a Board Certified Anesthesiologist, a surgical tech, a Registered Nurse (R.N.), and a surgical first assistant.
Scrub station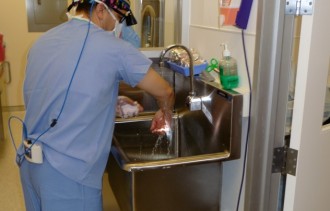 Both Medicare and the AAAASF have strict protocols for infection control, hygiene, and cleanliness in the operating room suite.
There are written protocols for sterilization and cleaning, and these protocols are constantly monitored.
Our facility maintains 100% compliance on an ongoing basis, adhering to rigorous standards at all times between onsite surveys.
Instrument cleaning, packaging, and sterilization is performed under the direction of our Registered Nurse.
Sterility is checked on a regular basis with spore counts.
Experienced surgical team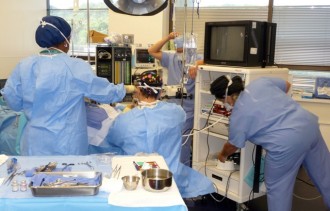 Dr. Rodriguez has been operating with many of the same nurse RN's and surgical technicians for over fifteen years.
They are highly trained, dependable, caring, and trustworthy. We are very proud and appreciative of our employee loyalty and the fantastic support they give to Dr. Rodriguez.
They really are like a family and they've performed many procedures hundreds of times together with the same staff.
Teamwork is essential in surgery. Their stellar teamwork contributes to the comfort and safety of all our patients.
A look at some procedures in progress
Fat transfer procedure in progress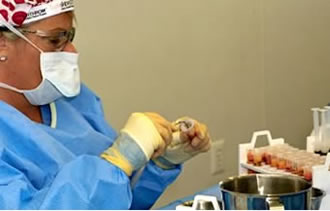 Dr. Rodriguez has been performing fat transfer procedures for over fifteen years. Fat is extracted from unwanted areas like your stomach, processed, and then carefully re-injected into areas for rejuvenation. Common areas for fat transfer involve the face, buttocks, breast, and hands.
The newest frontier of plastic surgery involves extracting purified stem cells from the processed adipose fat. These stem cell therapies are not approved for commercial therapy, but we are involved in two registered Clinical Trials. If you're interested, learn more about adipose stem cells and plastic surgery.
Endoscopic brow lift surgery in progress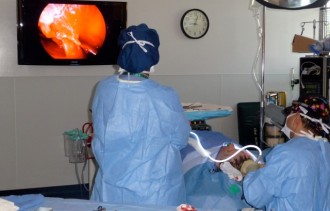 The endoscopic browlift is a one and a half hour procedure which lifts the brow to back to it's natural position. This results in a rested, refreshed, and natural facial rejuvenation.
This is a more permanent option than Botox and gives an even better result. The minimally invasive procedure is performed with the guidance of an endoscope, a surgical video device, which is shown in the image here.
The endoscope (surgical instrument) functions to visualize the muscle structure of the brow, allowing Dr. Rodriguez to perform the brow lift.
Brazilian butt lift fat injections in progress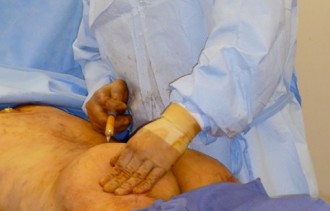 The brazilian butt lift gives you a more prominent buttocks and a beautiful, sculpted body. Thin is out, and curvy is in!
Dr. Rodriguez specializes in fat grafting techniques and has performed hundreds of BBL procedures.
He uses a manual syringe technique for the BBL, which employs hundreds of tiny injections into the subcutaneous plan of the buttock. He considers this technique to be safer than other fat injection pumping techniques which blindly pump the fat into the buttocks. For more information about Brazilian butt lifts, check out these articles he's written over the years.
Learn more about us . . .