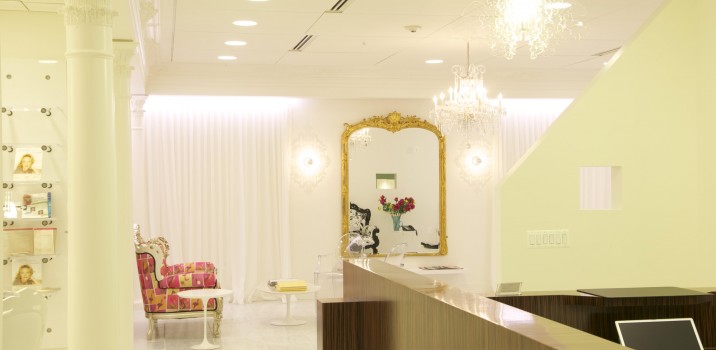 Dr. Rodriguez and his staff meticulously designed our beautiful office to provide our patients with the best cosmetic experience of their lives. Our office staff is experienced, caring, and loyal. All full-time staff members have been employed with Dr. Rodriguez for at least 5 years. We highly respect your privacy and the confidential nature of the services we provide.
The physician office: Ricardo L Rodriguez MD LLC
After working 3 years as a full-time faculty professor in the Yale Plastic Surgery Department in New Haven, CT, Dr. Rodriguez moved his family south to Baltimore. He founded his private practice in 1992 where he primarily performed reconstructive procedures. His office was originally located on the Greater Baltimore Medical Center (GBMC) medical campus in Physician's Pavilion West. In 2007, Dr. Rodriguez built an outpatient surgery center and relocated the practice just 3 miles from the GBMC campus.
Office location and hours of operation
The current location is convenient for both local and out-of-town patients, as it is near exit 25 on I-695, the major beltway around the Baltimore, Maryland area. Parking is convenient and your privacy is always ensured as we have a separate entrance for post-op patients.
| Day | Office Hours |
| --- | --- |
| Monday | 9AM – 4PM |
| Tuesday | 9AM – 6PM |
| Wednesday | 8AM – 6PM |
| Thursday | 8AM – 6PM |
| Friday | 8AM – 4PM |
Services offered
The practice specializes in Plastic Surgery and the focus is on multiple procedure makeovers. The full list of cosmetic procedures performed can be found here. Nearly all procedures are classified as elective surgery, meaning that fees are paid out of pocket, and not reimbursed by insurance. If the procedure is determined to be medically necessary, the office will submit the insurance claim on your behalf. The practice participates with Medicare and the practice NPI number is 1912173964.
The patient experience
While the beauty of the office space definitely contributes to your overall experience, it is the office staff that makes your visit with us truly remarkable. Our office staff is experienced, caring, and loyal. In order to assure the best possible service to you, we meet weekly to discuss any patient concerns or special requests. Likewise, we routinely discuss surgical outcomes and patient reviews so that we can continue to find ways to improve your surgical experience.
Initial consultation
After contacting us either by phone, form, or email, our office staff will help you schedule an initial consultation with Dr. Ricardo Rodriguez, a Board Certified Plastic Surgeon, and Medical Director of our fully accredited surgery center. This appointment can be either an in-person consult or a virtual consult via Skype. The virtual consultation involves sending photos and then speaking with Dr.Rodriguez by computer. Most out of state patients prefer to start the process this way as it is very convenient and cost-efficient.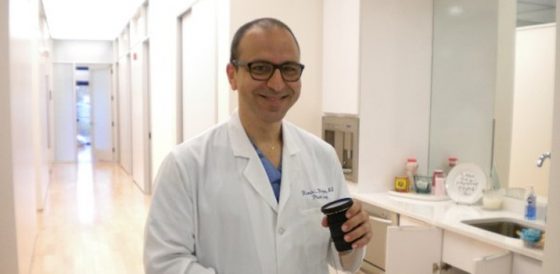 Dr. Rodriguez is a Yale-trained Plastic Surgeon who has been practicing all aspects of Plastic Surgery for over 25 years. He speaks French, Spanish, and English fluently. He is a past president of John Staige Davis, the Maryland State Society of Plastic Surgeons, and is part-time Clinical Plastic Surgery Faculty at Johns Hopkins University. He serves on the ASPS Regenerative Medicine committee, and is a member of the Gluteal Fat Grafting Safety Task Force team.
Dr. Rodriguez has a firm commitment to spending a lot of time with you in your initial consultation so that he understands the things that YOU want to change about your appearance. He listens to your needs and explains the various surgical techniques that he can use to achieve your goal.
After meeting with Dr. Rodriguez you will meet with Leeza, our patient coordinator, who will prepare quotes for various surgical plans. She will also present you with a packet of information about your particular proposed surgical plan. Stephanie, our financial coordinator, is prepared to help you with financing plans.
Scheduling surgery
After meeting with our patient coordinator, you can schedule your surgery. This can be done the day of your consult or anytime thereafter. We have many patients who want surgery ' next week', while others will call to schedule three years later. Whenever you are ready, Molly, our Project Coordinator, can assist you in picking a date for your surgery and helping with any questions you may have. With more than 10 years experience working with Finance companies, she's able to help you navigate those options as well.
Dr. Rodriguez currently performs procedures on Wednesdays, Thursdays, and Fridays of each week. You can schedule your surgery the day of your consultation, as well as any time afterward. After scheduling surgery, our staff will guide you through every step of the process. This includes helping you with financing, as well as arranging hotels or transportation after surgery. When you call the office, we answer the phones personally and someone is always available to help or answer questions.
Pre-operative consult
Dr. Rodriguez believes that patient education and informed consent are important parts of the surgical process. For this reason, we have a special appointment dedicated to helping you prepare for the surgery. After you schedule your surgery, you will have a pre-operative consult approximately 1-2 weeks before your surgical date. The purpose of this appointment is for Dr. Rodriguez to review the surgical plan with you again, answer questions that may have come up, review consent forms, and prepare you for the post-operative period.
During this appointment, we will review all pre and post-op instructions with you so that you are fully prepared after your surgery. All medication prescriptions are given at the pre-op appointment so you can have the medicine ready when you come home from surgery. Your measurements are also taken so that the staff can order your post-operative garments. Final payment arrangements for your surgery are also usually made at this time with Stephanie, our financial coordinator.
The surgery
Dr. Rodriguez performs 99% of his surgeries at his AAASF accredited surgery center, located adjacent to his practice. The surgery center uses only Board Certified Anesthesiologists and specializes in administering monitored IV sedation for all cosmetic surgery procedures. If Dr. Rodriguez does perform your case in the hospital, the surgery is performed at Greater Baltimore Medical Center (GBMC), just 3 miles away.
On the morning of your surgery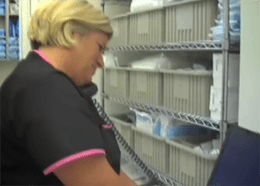 Upon arrival, you will be greeted by Pam Piracci, RN, the registered nurse who assists Dr. Rodriguez in the operating room. She will take your vital signs, and do a pre-op evaluation. You will then meet with Dr. Rodriguez and the Anesthesiologist and have the opportunity to ask any remaining questions that you may have about the procedure or recovery period. Dr. Rodriguez will make your surgical markings with you in front of a mirror so that you can discuss exactly where your incision will be located. For example, if you are having the Tummy Tuck procedure, you will discuss where the incision will be placed during the surgery. Dr. Rodriguez tries to involve you in every decision possible.
After your surgery
Following your surgery, you will be discharged from the recovery room within 1-2 hours. Out-of-town patients who travel without a companion will be taken by private medical transport to your selection of nearby hotels which have special accommodations for medical patients. During your postoperative period, Dr. Rodriguez wants you, his patient, to have direct access to him by telephone. For this reason, Dr. Rodriguez instructs all post-op patients to contact him directly by cell phone instead of our answering service. Dr. Rodriguez makes post-op house calls to Body Lift patients or patients with extensive multiple procedure makeovers.
Post op and follow up appointments
Follow up visits are important so that Dr. Rodriguez can monitor your progress and recovery after surgery. The number of follow up visits required depends on the procedure you had performed. At a minimum, all patients who undergo surgery are required to see Dr. Rodriguez during the first week following surgery. In a perfect world, you have follow-up visits at 1 week, 1 month, 4 months, and 1 year. The protocol for follow up visits for your procedure is outlined in your surgical packet. Out-of-town patients will have a combination of in-person follow-ups, as well as telephone, follow-ups with photos.
5 star plastic surgery patient reviews from our patients!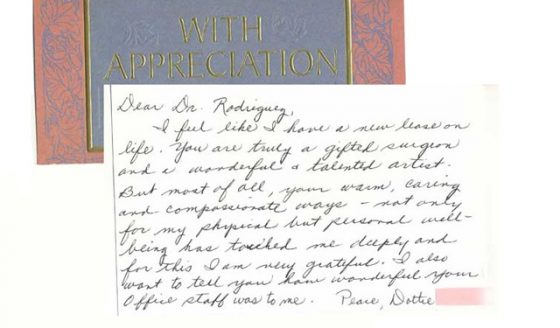 Ricardo Rodriguez MD has over 400 patient reviews across various web portals including these two sites with the largest number of patient reviews for Dr. Rodriguez:
Want to see more?
Take a virtual tour of the office and the surgery center in this video. Call us at +1-410-494-8100, or request a consultation.
We're here to help! We love our jobs. We look forward to helping you look your best!
Learn more about us . . .
Ricardo L Rodriguez MD LLC
1300 Bellona Avenue, suite C
Lutherville, Maryland 21093
contact@cosmeticsurg.net