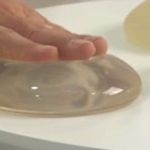 In my last blog post, I went over briefly how the silicone implant moratorium came about. This week I'll tell you why it is such a good thing that silicone implants are back as a choice for all Breast augmentation patients.
Remember, silicon implants weren't really banned, as we have been using silicon implants for cancer patients, those with congenital defects, and patients needing a breast lift. Over the past 14 years they were just not available for cosmetic surgery patients. However, now all patients will have the choice to use saline or silicone implants.
So how do silicone implants stack up against saline implants?
Let me tell you by listing some of the features of each…
How the implants feels
In my breast implant consultations, I have patients try on the different sizes of implants in front of a mirror. In the exam room I have a mix of various saline and silicone implants. The patient gets the chance to handle the implant and feel its consistency. Inevitably, they pick up the silicone implant for sizing. I have to tell them that what they are handling is not a saline implant, but a silicon implant, then in some cases I proceed to show them a saline implant.
Everyone who has touched the silicone always comments on how they like the feel of it. I have never, in all my years of practice, heard anybody say they preferred the feel of the saline implant. By far, the best feature of the silicon implant is how it feels.
The saline implant doesn't quite feel like a water sac once inside the body because it is surrounded by various amounts of skin, fat and muscle. Thus the comparison between the implants you hold in your hand is not completely fair. But it is absolutely true that the silicone implant, once in place, still feels better than the saline implant.
How the implant looks
As far as the way the implant looks there is no particular advantage to silicone versus saline, except for one circumstance: rippling. Breast implant rippling occurs when folds in the implant shell are visible through the skin. Silicone implants have much less tendency to show rippling, especially in slender patients.
There are two main factors that determine whether rippling will show through the skin. One is the tissue surrounding the implant. If there is a good cover of muscle or subcutaneous fat, rippling, even if it occurs, may not show through the skin. The other main factor is the implant filling. Since saline water has very little consistency, the implant shell can fold easily against the saline, but since silicone is thicker, the shell doesn't fold as easily. Therefore, silicone implants can sometimes make a visual difference, particularly for slender patients.
The likelihood of capsular contracture
Capsular contracture occurs when the protective scar capsule that the body uses to isolate the implant tightens or contracts. Imagine holding a water balloon in your hands and tightening the grip. The balloon wall, which felt like it had no resistance, will begin to feel harder as you tighten your grip. An implant with a capsular contracture likewise "feels hard" even if the fill material itself is watery (saline) or gel like(silicone).
There is no evidence that I'm aware of that states that saline or silicone filled implants have more of a tendency to develop capsular contractures. I do a few contracture releases a year, 2-3, which is much less than I used to see as a resident (operating with a number of private physicians in the University setting). Placing the implant under the muscle is much more of a factor in preventing capsular contracture than whether the implant is saline or silicone.
Implant wear-and-tear
You may have heard implant manufacturers or doctors say that you should plan on "changing" your implants every 10 years. I don't think so. They may be saying that to protect themselves from lawsuits, and I don't blame them. However, I have been in practice for 18 years and I would already be on my second round of re-do's of all my previous implants.
That is nowhere near my experience. I see less than five ruptures per year. They have occurred almost exclusively with textured saline wall implants. When a saline implant ruptures, you get a 'flat tire' as it deflates as the saline leaves the implant. The patient notices soon thereafter, and there is no remedy but to surgically replace the implant.
When a silicon implant ruptures, the patient may not even notice. As a matter of fact, the vast majority of silicone implant ruptures are diagnosed when the patient gets an MRI for another purpose. However, if you do have a ruptured silicone implant, the cohesive nature of the silicone will allow the implant to stay together. You do not necessarily have to get them removed as the silicone does not 'leak.' Likewise, silicone is an inert material and the FDA has determined that silicone does not pose medical risks or cause diseases. However, a ruptured silicone implant can certainly be surgically replaced.
Surgical scars
Here is the only area where I think the saline implant is superior to the silicone implant.
Silicone implants are inserted into the breast in their full gel form (just as you see them in the office). Saline implants are inserted empty and then filled with saline after they are placed into your breast cavity.
Therefore I can use a smaller incision for a saline implant compared to a silicone implant of the same size. The saline implant can be rolled up empty to a tight cylinder and inserted into the breast pocket through a very small incision. This is especially useful in women with very small breasts where incisions below the breast fold may show, and where the areolar complex is small so an areolar incision has to be correspondingly small. Silicone implants do require a larger incision in order to fit the full gel implants into the breast.
Saline VS. silicone summary
All in all, silicone implants feel better and are likely to last longer without having to exchange implants. I guess the best endorsement I can make is that if my wife asked for implants, I would advise her to get silicone implants.
I am especially happy that the FDA has clarified once and for all that the whole controversy over implant safety was just that, a controversy, and not a real fact. I have seen many women's lives and sense of well being improved by breast augmentation, and I'm glad they now have the full range of choices available.