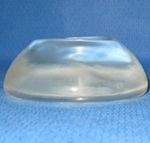 A woman's body goes through so many changes during and after pregnancy. Many of my patients have children and came to me looking for information about Breast augmentation. Did your breasts appear deflated after pregnancy? Did you like the look of your breasts during pregnancy? Are you wanting them to look fuller, perkier, or both? What are your options for breast augmentation after pregnancy?
To get a good understanding of what a post-pregnancy patient is really looking for, I ask her to bring the bra that she wore during pregnancy to the first consultation.
If you like the size of your breasts post pregnancy, all you may need is a tightening of the skin, and a lifting of the nipple areolar complex to give you a perkier look. This is known as a Breast lift which can be done with a very well concealed scar in the areolar complex.
However, if you liked that your breasts were fuller during pregnancy, you may want to consider a Breast augmentation. At your consultation, I will ask you to put on the bra that you wore during pregnancy. After giving birth and/or breast feeding, your breast gland shrinks. So if you want the fullness you had during pregnancy, you'll need more volume added to the breasts. If you want to be "like you were during pregnancy" we can then fill up the bra with various implant sizes until we find the fullness that you like. I find that once a patient starts doing this, they tend to want to try a larger size.
For some of you, the best option is both – a Breast lift with implants. If the skin was stretched too much, or the nipple is now pointing downward, and you want fullness, I would recommend both procedures. A breast lift to place the nipple in a perkier position, and an augmentation to give you a fuller appearance with better cleavage. The combined procedure can be done during the same surgical session.
For Breast lifts, I don't use the standard anchor scar or inverted T scar, as I find they are too visible and unnecessary. I prefer minimal scarring, in some cases a scar camouflaged in the areolar border, and in more severe cases, a lollipop scar.
Post pregnancy patients are some of my happiest patients. They often enjoy a healthy outdoor lifestyle, and enjoy having some parts of their body look even better than before.