Under Muscle 339 cc Moderate Profile Implants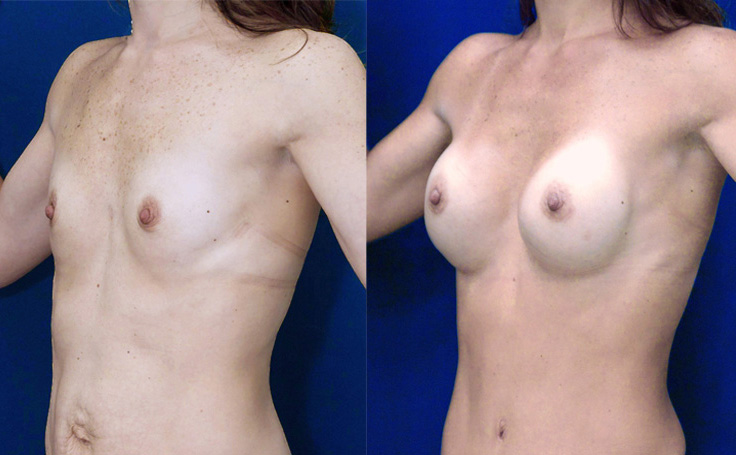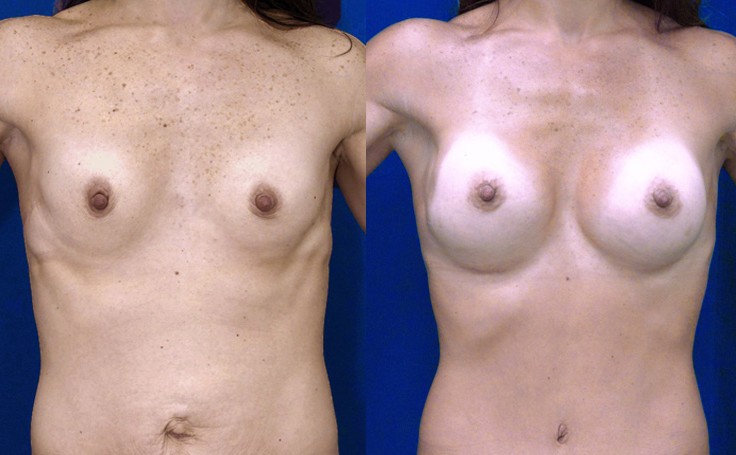 This slender Maryland Mom wanted fuller breasts and a smooth wrinkle free tummy. She consulted with Dr. Rodriguez and decided to have Breast Augmentation surgery with Moderate Profile 339 cc Silicone Implants that were inserted through a small incision at the top of her nipples, along with a Tummy Tuck to flatten and smooth her abdomen. As you can see this patient had amazing results and she is delighted with her better than ever new body.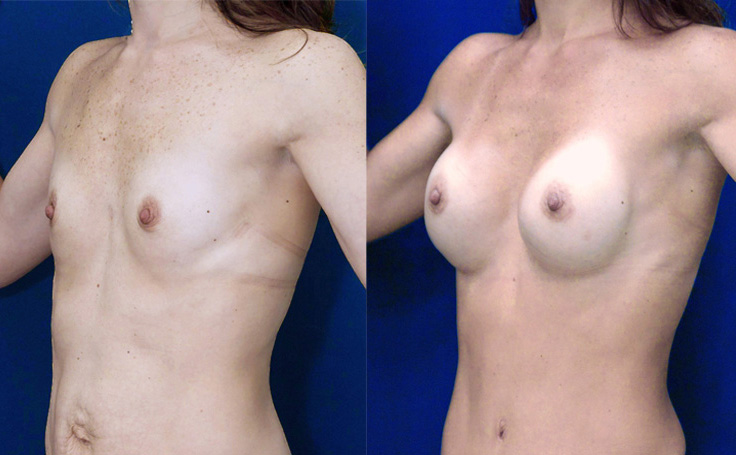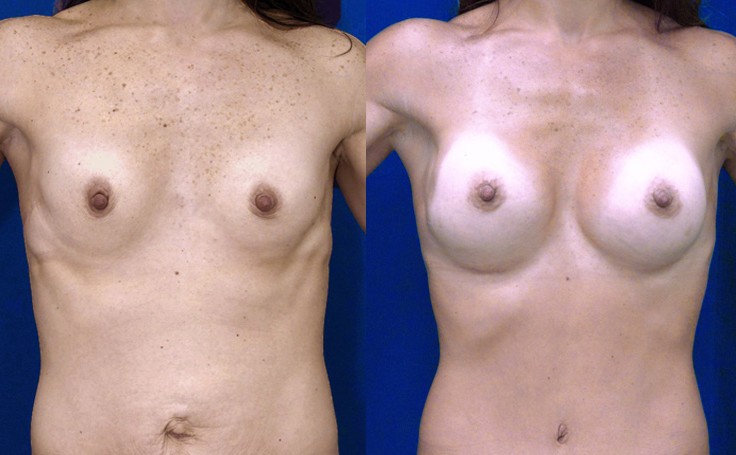 This 30-something Maryland Mom always wanted fuller breasts and after pregnancy she had a droopy wrinkled tummy, and much smaller breasts.  During her consultation, Dr. Rodriguez determined that she had an umbilical hernia. At the conclusion of her appointment, she decided to have her breast enhanced with Moderate Profile, 339 cc Silicone Implants. In addition she decided to have a Tummy Tuck and umbilical hernia repair performed during the same surgery. She set up her surgery that day and within 3-weeks of her first appointment she had surgery.
After surgery she went home with a pain pump which helped to keep her comfortable and heal faster, and she was able to go back to all her previous activity 4-weeks after surgery.
As you can see, this patient had beautiful results, she and Dr. Rodriguez are very happy with her experience.To learn more about pain pumps, please see Dr. Rodriguez' blog about Improving the cosmetic surgery experience with pain pumps. Watch Dr. Rodriguez explain how pain pumps can dramatically reduce post-operative pain and shorten your recovery time in his video post, Pain Pumps: Cosmetic Surgery with minimal pain.
To schedule your personal consultation with Dr. Rodriguez contact us at 410-494-8100. Dr. Rodriguez has 5 star patient reviews at many Plastic Surgery Portals for his Breast Augmentation procedure. Patients like the office, Dr. Rodriguez' bedside manner, and the fact that they play a vital role in all of the decisions. To see more Before and After Photos with various breast implant sizes, return to the Breast Aug Gallery link below.
Patients depicted in our Breast Augmentation gallery have provided their written consent to display their photos online. Every patient is unique, and surgical results may vary. Please contact us if you have any questions.
Video

Dr. Rodriguez discusses the decisions you need to make when choosing breast implants.

Watch Video