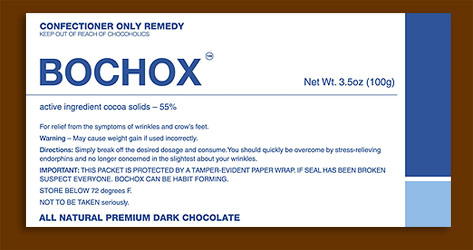 For years I have been saying that the Brow lift is your Botox detox. However, there is a new competitor on the horizon.
On Sunday, I turned 54. My wife cooked me an amazing meal, having been inspired by her recent rendezvous with her best friend at Rancho La Puerta in Mexico (organic, feel good stuff).
For years, we have subscribed to a 'no present' policy for Birthdays. Celebrating another birthday is really just a gift itself. However, over the years, I have come to realize that 'no present' can be a tricky proposition. I have come to the opinion that a small gift can go a long way.
This year my wife gave me something that made me laugh, satisfied my sweet tooth, and is even a new addition to my office. We're talking about Bochox. It's a chocolate bar, but not just any chocolate bar -it's the perfect treat for all my Botox and Brow lift patients!