Nearly everyone has heard of Groupon, the coupon site for daily deals. If you are on the receiving end as a consumer, it can be a great way to get some great deals. For over a year we have been seeing other plastic surgeons and dermatologists sell Botox® at huge discounts. Not wanting to be outdone by our competitors, we decided to explore our options for selling Facial injectables such as Botox, Restylane, Juvederm and Sculptra via Groupon.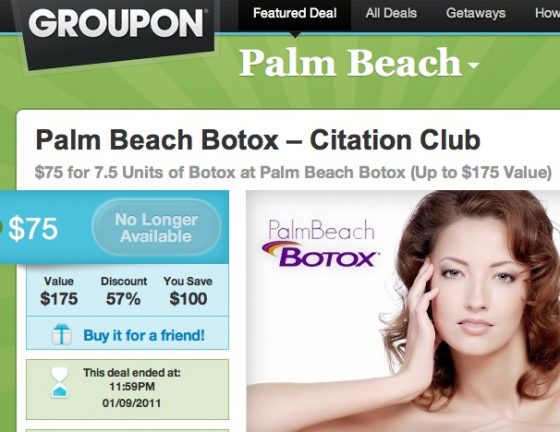 Our biggest dilemma about using the popular daily deal service was a legal one, rather than what price we could negotiate with Groupon. Our question was "Is it legal for our medical practice to give a percentage of the sales to Groupon based on the number of injectable procedures we sell?"
If you are scratching your head, you may not be aware that many states have anti-kickback and 'fee splitting' rules for doctors. These rules forbid medical doctors from giving a payment to anyone for a referral. In other words, awarding a commission to an advertiser based on the income generated or number of patients treated is illegal.
We first broached the question to one of our patients, who happens to be a well respected attorney here in Maryland. His short answer was that Groupon likely violates Maryland State laws on fee splitting. Having gotten his response, we next put in a phone call to the American Society of Plastic Surgeons (the ASPS) to hear their formal position on Groupon.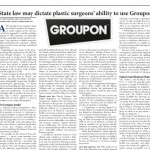 They pointed the way to a recent article about the use of Groupon for cosmetic services published in the June 2011 issue of Plastic Surgery News, the trade publication for plastic surgeons.
In summary, the ASPS article was written by the plastic surgeon who heads the ASPS Ethics Committee and a lawyer. They concluded that Groupon likely violates the laws for physicians in many states. In particular, they considered the use of Groupon to be in violation of laws in California, Florida, Illinois, and New York State. Lots of specific details were given about the regulations in these particular states. The State of Maryland was not discussed, but we are certain that the laws here are very similar, which means that kickbacks can not be given for referrals of patients.
According to the ASPS, the use of Groupon to promote cosmetic surgery procedures likely to be illegal in many states.
If that wasn't enough to scare us away from using Groupon, the authors of the article also shed some light on how Groupon management is approaching the issue of the legality of doctors using their services to promote cosmetic services. Groupon has acknowledged that there may be issues with particular states and their licensing authorities, "Groupon advised [the ASPS] through its counsel that it has not independently done a legal analysis and assessment as to whether the Groupon program violates federal or state laws regarding flee splitting, kickbacks, and referral fees."
Furthermore, the article stated that Groupon does not consider it their obligation to determine whether services are legal or not. According to ASPS, "Groupon is taking a 'buyer beware' position and assumes no responsibility for determining whether the program raises legal implications for the service providers (doctors)."
Haven't done an assessment yet? Don't consider it their obligation to determine legality? Has Groupon taken a new position since the writing of this article? Certainly an acknowledgement that including cosmetic services such as Botox injections within their daily deal offerings is illegal in many states would rain on the Groupon IPO parade. Halloween may be over, but for Groupon investors, this is a scary thing!