I've been online writing this blog and producing videos for quite some time in hopes of educating patients who are considering cosmetic surgery.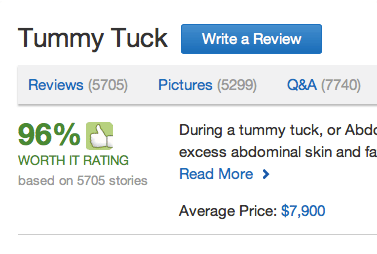 As such I've also been involved with online forums centered around plastic surgery topics. Perhaps the most comprehensive online portal for patients looking to gain first-hand knowledge and information about plastic surgery procedures is RealSelf.
RealSelf.com got its start back in 2006 and first fell on my radar in 2008 when they countersued Lifestyle Lift Holding, Inc., a company we received hate mail from after writing this unflattering blog post back in 2006. I joined RealSelf in May of 2009, reached Platinum Doctor status by July, and have been actively participating there ever since.
I love it because patients can ask general or specific questions, rate their doctors, share their experiences, share their photos, and even rate procedures. Those patient procedure ratings interest me because the aggregate information is a good indicator of the general population since many of the averages are based on thousands of patient reviews.
Today I took a look at the "Worth It" Ratings for the various cosmetic surgery procedures and according to RealSelf, some of the highest rated procedures are the Mommy Makeover, the Tummy Tuck, and the Body Lift.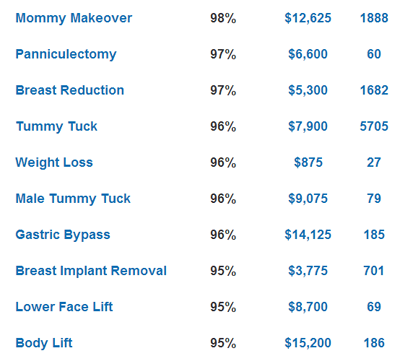 Each one of those procedures has a 95% or higher "Worth It" Rating. Note that both the Mommy Makeover and the Body Lift include the Tummy Tuck as part of the procedure.
If we look solely at the Tummy Tuck ratings, 96% of patients love their tummy tuck! I am happy to report that I see this same high satisfaction rate with Tummy Tucks, Mommy Makeovers, and Body Lifts reflected in my own practice here in Baltimore!
Tummy tuck -Worth It!

– 96% of RealSelf patients
Patients who come in for a Tummy tuck usually have a lot of loose skin as well as separated muscle and often even stretch marks. The Tummy tuck removes the excess skin, gives them a flatter stomach, and results in a dramatic change to their bodies.
Patients of all ages have this procedure done and most are thrilled with their results. To see why our patients are so happy, check out our photo gallery. All of these patients have given written permission to use their photos for the purpose of patient education.
In terms of Tummy tuck cost, RealSelf.com reports the average price paid by over 5700 patients was $7,900. To learn more about the techniques that I use in the Tummy Tuck procedure, please see our info page and visit our blog. You can also give us a call at 410-494-8100 to find out about our Tummy tuck special cost savings!
As for RealSelf, the community continues to enjoy explosive growth noting 3.5 Million unique visitors per month (up from the 1.25 Million they noted back in January of 2011). I highly recommend it as a useful tool in your quest for information about elective skincare, dental, bariatric, or plastic surgery procedures.

On a personal note, I received Top Doc status in January of 2012, an honor given to less than 10% of the 4800 doctors on RealSelf, 2900 of which are Board Certified Plastic Surgeons. Over the years I've answered more than 500 patient questions!
I truly enjoy participating in the patient Q&A's and seeing plastic surgery concerns and experiences from patients' perspectives. If you're considering plastic surgery stop by and view my profile, see my reviews, or read over the answers I've provided here.